Wow, is it May already? This year has gone by so fast, partially because I was getting ready for our trip, then we were on our trip, then we were home from the trip. It's going to be air conditioning season soon…sigh. I just don't like the heat – but our little Sasja is ready to play outside all day long, digging, and rolling around in the grass – and the new normal for our summers seems to be highs of 37˚C that feel like 42˚C with the smoke from the many many forest fires making it impossible to see very far, enjoy the outside, or breathe properly.
On the good side, May 16th marks my 10th wedding anniversary with Raymond, and I still feel like a newlywed most days. He is simply the kindest, smartest, most generous, cutest, and downright amazing-est person I've ever met, and I'm so excited to be his partner in life! (We've been together since 1993, so we're going into our 26th year!)
We're in the middle of asparagus season around here, which means strawberries are next! Fresh, ripe strawberries picked that morning we can buy at little drive in booths or in our local shops to add to our breakfast smoothies, granola, and salads, or for all kinds of awesome jams, like our legendary strawberry balsamic jam!
And we still have three episodes of Game of Thrones to enjoy! (It's okay if you don't watch it.)
As I mentioned in a post last week, I don't create today and share that with you tomorrow as I need to ensure that every one of my formulas is safe, stable, and awesome, and that takes time. But there's a ton of stuff we played with during our trip and afterwards that I really want to share all this neat new stuff with you, so you'll be seeing some things that haven't been on my sample shelf as long as I would like, and I'll let you know when you see one of those posts.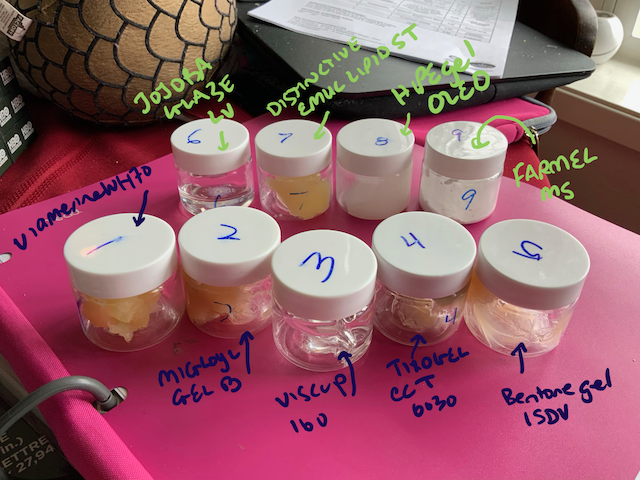 I'm super excited about all kinds of things, including these new oil thickeners that can be used in anhydrous products or emulsions and such – I think I have 17 of them now? – as well as all those new ingredients I brought home with me from In Cosmetics and London And I have to tell you all about HIPEgels, which are emulsifiers that create water-in-oil and oil-in-water emulsions in completely different ways than you'd think.
I have all these new esters, too, and I'm almost ready to share that series. (I need to make sure I have all the posts sketched out before I post the first one, otherwise, they'll never get done when another shiny thing catches my eye. Yeah, I know my flaws.) This will lead into the silicone series, which keeps getting bigger as I add more to my workshop. 'Cause, you know, I just don't have enough ingredients, eh?
I am going to be getting into some chemistry with these series, so if that's your thing, don't forget I'm offering this introduction to chemistry course to you, my lovely subscribers, which you can sign up for by clicking this link. If you don't want to get into the chemistry, don't worry! I'll be writing the way I normally do with summaries and everything else you're used to seeing on the blog.
I also have a series on pH meters and another on scales I have to find time to finish this month. (No promises on this as I already have about 60 posts drafted that need to be finished and shared.)
I encourage all of you to check out the member-to-member super happy caring & sharing post for May. It's an absolute joy to see how much you're all sharing and connecting and creating community here. Thank you for being so awesome to each other.
If you're a $3 subscriber or higher, please click here for the monthly duplicating suggestion post.
If you're a $5 subscriber or higher, please click here for the monthly Q&A post
If you're a $10 subscriber, look for the e-zine around the 25th of the month. Please note, we don't send you the e-zine. We share a post here that has a coupon code you can use in the store to receive the e-zine for free.
I try to have that post linked in the pinned posts' section you'll see to the right to make it easier to find.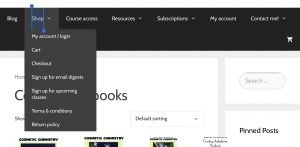 If you want to receive weekly or monthly updates by email when we post to the blog – which will include when we post the e-zine and coupon – please click here to see the form and sign up. By signing up for this, you're giving us permission to send you information.
And don't forget to check out the coupons from our wonderful suppliers for May!
Voyageur Soap & Candle (coming soon!)
Windy Point Soap Making Supplies