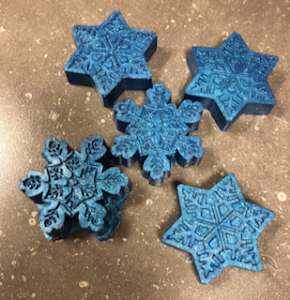 Sorry for the delay in posting this. I thought I had written it up earlier in the week, but it turns out I didn't save it or maybe I just dreamt I wrote it?You might see things in this post I've written elsewhere, so I beg your patience as I try to figure out where it went! 
Welcome to February! I know the overriding theme of this month is generally about love and Valentine's Day, but I think of it as being about birthdays as both my dad and best friend celebrate this month. (My dad, granddad, and other granddad were all born on February 19th. Weird, eh?) It's also a time to bundle up all cozy and warm with a good cup of tea as we might get a bit of snow!
I realized that I have at least 100 formulas and more ingredients than I can count in the workshop now, so this month I'm following my snoot to flavours of froot! No, wait, that's Toucan Sam, but he's a good role model for pursuing things to their natural conclusion, and that's what I've been doing lately. When I wrote the piece of using cationic polymers in negatively charged shampoos, I ended up reading a ton of stuff about coacervation, and when I wrote up the duplication for the kale + spinach cleanser, I started reading all about thermal gelation. I've decided this month that it's time to share some of the stuff I found in those rabbit holes along with tons of ingredient write ups and formulas. I apologize in advance for those of you who think I write too much, but there's so much to share!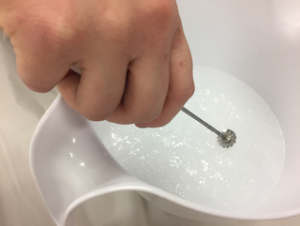 What can you expect this month? I've been testing little mixers in all kinds of products, and I'll share my results with you!
I've created some micellar water formulas about which I'm super happy, and I'll be sharing a few of those, too.
If you're a $3 subscriber or higher, click here to find the February duplicating post where you can suggest a duplication we could do this month!
If you're a $5 subscriber or higher, click here to find the February Q&A post where you can ask all manner of questions!
If you're a $10 subscriber, I'll have an e-zine for you later this month. In the meantime, click here to find a 7% off coupon from Lotioncrafter! Thanks Lotioncrafter!
We are trying to find time to move posts over from the Patreon feed, but there's just so much, so I beg your patience for a little longer. I know Patreon is hard to navigate – that's why we started this blog!
As a final thought, how are those 2018 resolutions coming along? I haven't started organizing because it's just so boring to go into the workshop to put things in boxes. I'd rather be formulating. But I'm getting better at asking for payment for my work. How are you doing with your goals?