On December 31st, I shared with you a few of my favourite new ingredients from 2017. What else did I like?
New favourite surfactant: Okay, this one is super hard as I have added at least 16 new surfactants to my workshop this year. How about I break it down into surfactant and surfactant blend?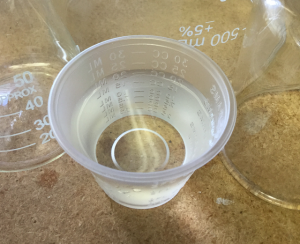 Favourite new surfactant: I really like sodium lauroyl sarcosinate, an anionic or negatively charged surfactant that offers very mild and gentle cleansing. It's a poor foamer and usually used as a secondary surfactant because it's so mild. It's alkaline, so we have to make sure we adjust the pH down to 6 or lower.
It doesn't like oils, so it will thin out when we add a titch of a fragrance or essential oil, and it's hard to thicken. It does foam well in the presence of sebum, so it's a good one for oily hair or skin. I've been using it in a foaming facial wash and a body wash (without fragrance oil), and it does feel lovely on my skin, which makes sense as it's substantive, which means it acts as a conditioning agent at an acidic pH.
The version I have from Les Ames Fleurs is 30% active, and can be used at up to 30%. Some people are using this in toothpaste, which is a little strange to me.
As a quick note, if you've ever needed a reason to learn all about INCI names, going to a site in a different language should be that reason! I can read a bit of French – I'm Canadian, so we all get a bit of French in school as well as on every single product you buy from cereal to suppositories – but I'm pretty much limited to the kind of thing a toddler would know, but I was able to find out what these surfactants were by looking at the INCI name! Woo!
Related post: What does anionic, cationic, and non-ionic mean?
Favourite new surfactant blend: This one is tough as I found a few that I really liked, but I think it might be Miracare Soft 313*, a blend Lotioncrafter started carrying last year. It's a combination of disodium lauroamphoacetate (zwitteronic surfactant), sodium cocoyl glycinate (anionic surfactant), cocamidopropyl hydroxysultaine (zwitteronic), and lauric acid (thickener), which can be used at up to 100% in a formula, although I like to use it at 35%. It's alkaline, so we have to bring it down to around pH 6.3 for it to be substantive. It's incredibly mild and can be used in any product you wish. I've been using it in facial cleansers and body washes.
The down side of this one is that it won't thicken with Crothix, but it thickens nicely with Surfthix™ DOE* (INCI: PEG-120 Methyl Glucose Dioleate (and) Methyl Gluceth-10) and Rheomer 33T (INCI: Polyacrylate 33). I've been experimenting with a few other thickeners – okay, 17 different thickeners – and I hope to have more to share shortly.
I'll be writing a lot about surfactants this year as Jane Barber, Christine Hwang, and I have been sharing information on how to thicken these hard to thicken surfactants, which has been great fun!
Favourite new thickener: A moment, if you will…One of the problems when you get away from sulfates, like sodium lauryl sulfate or sodium laureth sulfate is that they are hard to thicken with salt or things like Crothix. I've been working with a bunch of them, and I'm still not sure what I like the most. I think it might be the Rheomer 33T as it's super easy to use if you follow the directions properly, and it feels nice on my skin. So this category may need to wait for another day.
Did you try any new thickeners this year? What did you think? Share your thoughts in the comments!