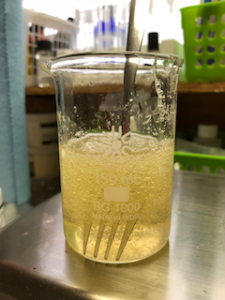 This is a new surfactant blend Lotioncrafter is now carrying. In the spirit of owning every ingredient possible, I had to try this one and create a few formulas with it! Don't forget – if you're a $10 subscriber for February, we have a 7% off coupon from Lotioncrafter! 
Miracare Soft 313 is a blend of a few different surfactants combined to create a gentle to very mild surfactant. It can be used diluted or at full strength in any cleansing products from facial cleansers to body washes to shampoos. We can use it at 20% to 100% in a formula – okay, not 100% as we want some fragrance/essential oils and maybe some colour in there – but we need to alter the pH from 9.5 to 10.4 to around 6.3. It has a shelf life of 2 years.
It can handle up to 5% oil without use of a solubilizer like polysorbate 80 or caprylyl/capryl glucoside, and it works well cationic polymers like honeyquat or polyquaternium 7. It has 33.5% to 35.5% active matter – which means if you used 100 grams, you'd have 33.5 to 35.5 grams active surfactants – and a shelf life of about 24 months if stored in a cool, dark space.
Miracare Soft 313 is composed of three different surfactants and a thickener – INCI: Sodium cocoyl glycinate (and) disodium lauroamphoacetate (and) cocamidopropyl hydroxysultaine (and) lauric acid – so let's breakdown what we know of each of these.
Quick reminder: Anionic means negatively charged, cationic means positively charged, non-ionic means neutrally charged, and zwitteronic or amphoteric means the charge varies with pH. In general, when it's an acidic pH of lower than 7, it's positively charged or cationic; when it's an alkaline pH, it's negatively charged or anionic. For more detail, click here. 
Sodium cocoyl glycinate is an anionic or negatively charged surfactant derived from an amino acid – glycine – and coconut oil, hence the "cocoyl" part of the name. (Yep, they're a bit related to sodium cocoyl isethionate or SCI.)
It offers creamy lather and rinses off easily, so it doesn't leave that tight feeling behind. It offers increased foaming power at pH of 5.5 to 9, with the optimal pH of 6 or over. It's a good primary or secondary surfactant, and it can be combined with non-ionics like decyl or lauryl glucoside to boost foaming and provide a creamy, soft lather. (Doesn't that sound nice?) In any product, it provides a dense, creamy, foam with both small and large bubbles. It's a great example of a surfactant that doesn't need to be harsh to offer degreasing to hair or skin.
As a primary surfactant, you could use it at 20% to 40%; as a secondary surfactant, you could use it at 1% to 10%.
Disodium lauroamphoacetate is an amphoteric surfactant generally used as a secondary surfactant to increase mildness, increase viscosity, and reduce irritation. They're compatible with cationic compounds, like honeyquat or polyquaternium 7, so they can be used in all kinds of 2-in-1 formulas.
It's related to disodium cocoamphodiacetate and cocamidopropyl betaine, both secondary, amphoteric or zwitteronic surfactants. All these are generally poor foamers when not combined with another surfactant.
Cocamidopropyl hydroxysultaine is an amphoteric surfactant also related to cocamidopropyl betaine. It's water soluble through a large pH range, reduces irritation of other surfactants, and may thicken bubbly and lathery things, like bubble baths or body washes. It produces a rich, creamy foam, acts as a foam booster,
I also have a bottle of this from Making Cosmetics, which has a pH of 6.5 to 8 with 50% active surfactant, so I may have to reduce the pH to get it down to the 4 to 6 range.
As a note, I'll be writing more about this last surfactant shortly as it's quite interesting!
Lauric acid is related to stearic acid in that it's a fatty acid that thickens products and moisturizes our skin.
Related posts:
What's the meaning of anionic, cationic, and non-ionic?
Question: How can add a cationic polymer to an anionic or negatively charged surfactant mix?
How to test and adjust pH of our products.
Surfactant section of the old blog
References:
Handbook of Detergents
Handbook of Cosmetic Science & Technology
Surfactants by Anthony O'Lenick
Join me tomorrow as I share the first of a few formulas using this surfactant!