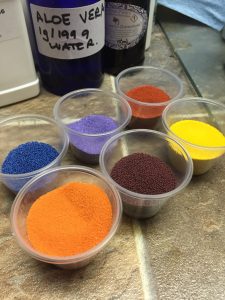 We've made two cleansing products with Siligel as the thickener – this rose & chamomile facial cleanser and this body wash with Miracare Soft 313 – so I thought we should take a look at one of the exfoliants I use the most in facial products, jojoba beads.
Jojoba beads are not plastic micro beads. They're hydrogenated jojoba oil, and they're readily biodegradable.
The most common sizes I've seen range from from 60/100 or 150 to 200 microns, suitable for facial products; 40/60, 250 to 425 microns, for more gentle exfoliation for face and lips; and 28/60, 250 to 600 microns, for body care products, like body washes or scrubs. I found a place that offers 20/40 or 425 to 800 microns, suitable for things like foot care products as they offer "aggressive exfoliation", which sounds a little terrifying for me! The smaller the number, the more scrubby and larger the bead. I use 60/100 and 40/60 in my facial products.
They come in a variety of colours, and I've used them all as I like shiny and bright things, but you can also get them in white.
As they have a melting point of around 55C or 140F, they always go into the cool down phase of a product. I forgot this once, and I ended up with the least scrubby, but very prettily coloured, foaming facial scrub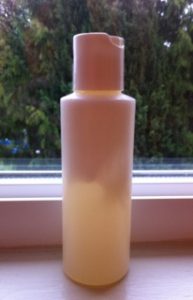 These are very light little beads, and they want to float up to the top of the bottle and stay there. I don't really mind as I make things just for me and my friends, but it is nicer to suspend them using something like Siligel or Sepimax ZEN so they not only look better, but perform better.
You can add the beads to any products in which you want some exfoliation from lotions to bubbly cleansers to oil based scrubs. I like to use them with foaming bath butter as they look like cupcake sprinkles! (Try them in this formula in place of the walnut shells.)
lRelated posts:
Turning your cleanser into an exfoliating cleanser
Using the surfactant base to make an exfoliating cleanser. (so many links here!)
Using Sepimax ZEN to thicken facial cleansers
Join me tomorrow as we make a suspending facial cleanser with jojoba beads.