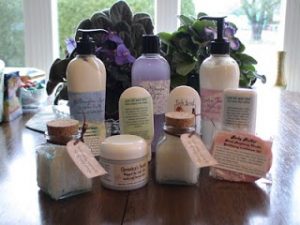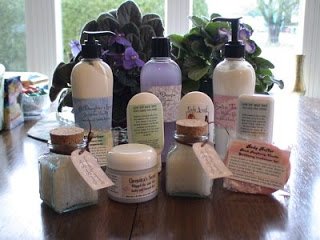 It's the 9 year anniversary for the blog today. Hooray! I know I started the blog earlier than that, but today was the first day of its life as a bath & body blog instead of something I created for the kids in my youth program. If you had told me I'd be doing this full time back then, I wouldn't have believed you.
I remember how excited I was when someone commented on a post – which happened on March 2nd, 2009, – and when someone shared a link on the Dish forum, which happened shortly thereafter. I was so excited to give back to those who had given so freely of their knowledge so I could fall in love with this amazing craft! And I'm still so passionate about what we do!
Over the last nine years, I've written more than 3,200 posts, written 2 years of columns for Handmade Magazine, attended two Guild conferences with two more planned this year, taught more classes than I can count, written five e-books, and how many e-zines? When I started, I could fit all my ingredients into a few plastic Tupperware boxes; now it fills my two huge shelving units plus every single space in my workshop, some of the freezer, and one shelf in the fridge, and I still keep ordering more things. (Yeah, we all have that habit, right?)
And as of today, the old blog has had 13,085,112 visitors, with so many unmeasured visitors in those who receive notifications and posts by email, Patreon subscribers, or this new blog.
What have I learned? So so much…I think my head might explode if I dwell on this too long. 
I've learned to follow my curiosity to its logical end and see what happens as I read such great stuff along the way. Raymond asked what the difference was between an emulsifier and a solubilizer a few years ago, and I spent hours and hours at the computer reading everything I could to figure out how to explain it to him. That was so much fun!
I've learned that mistakes can lead to even more awesome things. I wouldn't be doing any of this if that first batch of bath bombs hadn't failed leading me to find the Dish forum.
When I stop listening, I stop learning. This doesn't mean I have to entertain every yahoo who shows up with some practice or idea that isn't valid then tells me to do my research when I ask them for citations or evidence. It means I need to listen and think with an open mind to evaluate what's being said. (Being defensive never ever leads to learning. Besides, what's wrong with being wrong?)
I'm working on asking for what I'm worth, and not feeling guilty for doing so.
Wow, there's just so much I've learned, but I'll leave it here for now….
What am I wishing for as I blow out the candles on a cake I hope Raymond brings home for me? I know I'm not supposed to share wishes, but I can't resist!
I hope for more and more connection with you, my lovely readers, through comments on the blog and in person at conferences and classes. I'm feeling so revitalized by all the wonderful comments and questions you're sharing and how much you're sharing with each other. We're looking at different ways to create more opportunities to connect as we continue to build this new blog.
I hope you feel comfortable sharing your thoughts and suggestions about this new blog.
Once my back is better, I want to get into the workshop at least once a week to play with all these ingredients I'm hoarding
I want to continue falling down all kinds of rabbit holes and I want to share those with you.
Thank you to all of you who have joined me on this journey. I hope you're enjoying it as much as I am! 🙂