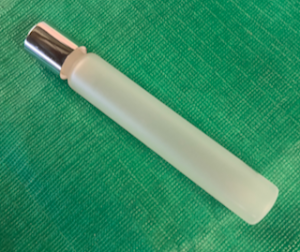 I love the love so much, I wanted to share with you this massage oil that's super easy to make and can be customized to include what's in your workshop!
You could put this in a bottle with a treatment pump or another cap, but I like to make these in roller bottles to make it easier to roll on my or someone else's skin without getting my hands all oily. Plus, there are some very nice looking roller balls out there these days! 
You can use any base you like as the oil, but I like to use fractionated coconut oil as it's inexpensive, very light, and non-greasy, or an ester like C12-15 alkyl benzoate, which is also very light and non-greasy.
As a note, every time I'm in Voyageur Soap & Candle teaching or shopping, I overhear people trying to figure out what oil to use in a roller ball bottle with their essential oils. The quick answer is this – anything oily can be used in a roller ball bottle with essential oils. Choose something with a longer shelf life – something like jojoba oil, fractionated coconut oil, sweet almond oil, or apricot kernel oil, to name a few – and something inexpensive. You don't need to use exotic, more expensive ones like pomegranate oil or borage oil as it's just there as a medium to bring the essential oils to your skin.
You can use any fragrance or essential oil at 0.5% to 1% or so, or you could make it edible by adding up to 1.5% sweetened lip balm flavour oil (hubba hubba!). You'll want to make a small batch and see what you think before making giant amounts. You'll want to make up around 9 grams for a 10 ml bottle. (0.9 grams of oil is around 1 ml or so, so 10 grams will be too much.)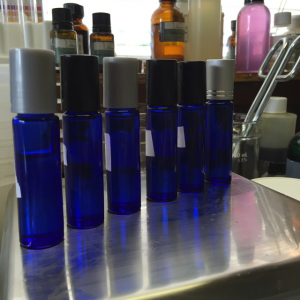 If you wanted to keep with the Valentine's Day theme, you could use a little cinnamon in there – don't use 1% cinnamon essential oil, though, as that's too much – or a fragrance oil like Love Spell or Butt Naked In Bed or Fifty Shades or…okay, you get the idea, there are some very naughty names for fragrance oils these days. I'm actually blushing writing these out.
In my most recent variation of this formula, I used a combination of rice bran oil and fractionated coconut oil with 0.5% cinnamon essential oil and it was just lovely! 
BASIC MASSAGE OIL IN ROLLER BALL FORMULA
99% fractionated coconut oil or any other oil or ester you like
1% fragrance or essential oil or up to 1.5% sweetened flavour oil
Measure the ingredients by weight into a container or directly into a roller ball bottle.
Label, and enjoy!
There're so many lovely roller ball bottles out there you could use, from the smaller frosted one you see at the top of this post, to this larger one that holds around 30 ml or 1 ounce that I used for my latest formulation. (I'm so annoyed that I can't find any pictures of that one nor can I find the bottle! Argh!)
Related posts:
Making a lotion bar formula with a pain relief EO blend
Did you try this formula? What variation did you make? Share your thoughts in the comments below!