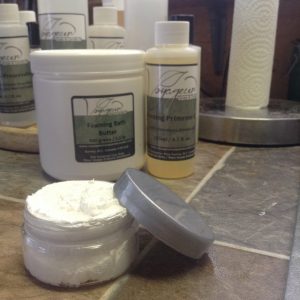 I really enjoy creating face and body scrubs with this foaming bath butter, so I thought we could incorporate some jojoba beads to create an exfoliating body scrub. Let's alter this formula – foaming bath butter with walnut shells – to incorporate jojoba beads instead.
If you'd like to learn more about foaming bath butter, click here. I get mine from Voyageur Soap & Candle, which, based on the INCI, is likely to be Crafters' Choice or Stephenson's base with a pH of 8 or higher. The version from Windy Point Soap has a pH around 5.5, so you don't need to alter the pH of this one.
As a note, I didn't realize the pH could be higher than 8 for this ingredient, so if you're using a version with alkaline pH, you'll have to reduce the pH down to around 6 or lower to ensure it's compatible with our skin. Or don't alter it. Soap is alkaline with a pH more than 8 and it's nice for our skin, so a higher pH doesn't necessarily mean it's a bad thing.
FOAMING BATH WHIP WITH JOJOBA BEADS
79% foaming bath whip
5% oil of choice
1% fragrance oil or essential oil
15% jojoba beads
Colour – water soluble liquid or mica, optional
Add all the ingredients into a container by weight, then mix for about 3 minutes or until it seems like it's poofed up by at least 25%. It can go higher, but it's up to you how fluffy you want it!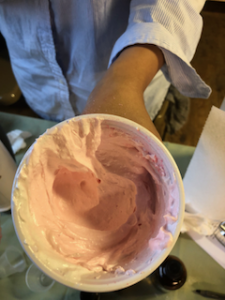 As you can see from this formula I made using walnut shells, you can add all kinds of things to a foaming bath butter scrub, from oils to humectants, to change how it feels on your skin as you use it or after you rinse.
I like to add an oil at up to 5%, a fragrance or essential oil (if it's not for my face), a hydrolyzed protein to film form at 2% or so, a positively charged or cationic polymer like polyquaternium 7 or honeyquat, and a few humectants, like glycerin or propanediol 1,3 to hydrate my skin.
There are so many choices you could make for a body scrub like this, so let's see how a few combinations might work.
If I had dry skin, I would choose a slightly greasier oil – we aren't that worried about it being greasy at 5% – like rice bran oil or pumpkin seed oil to get a wonderful balance of linoleic and oleic fatty acids as well as great phytosterols to reduce inflammation. I would definitely want a skin conditioner like Honeyquat at 3%-ish, and a few humectants as dry skin needs all the lovely hydration it can get.
PUMPKIN SEED & SILK FOAMING BATH BATH BUTTER FOR DRY SKIN
66% foaming bath butter or bath whip
5% rice bran or pumpkin seed oil
3% Honeyquat
5% glycerin
3% propanediol 1,3
2% hydrolyzed silk protein
1% fragrance or essential oil
15% jojoba beads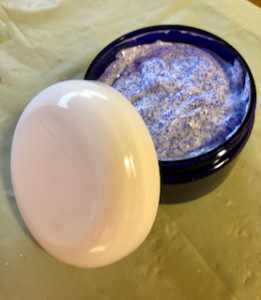 Weigh all the ingredients into a container, and mix well for up to 5 minutes using a hand mixer to give it more volume. Scoop into a jar, label, and rejoice!
Learn more about how to convert a formula and why we measure by weight…
If I were to make this for someone with oily skin, I would remove the oil, if they wanted, and add 5% more foaming bath butter to the mix.
There's so much you can do with these jojoba beads! I've had people mix and match colours – I did this in red and green for Christmas – or colour the bath whip one colour and choose a complementary colour for the jojoba beads. Feel free to add more than 15% jojoba beads or add a bit of something like pumice if you want an extra scrubby treat!
In fact, join me tomorrow as we make a pumice and jojoba bead gardener's or crafter's scrub!
Related posts:
Foaming bath butter -links for other formulas
Let's make a white chocolate foaming bath butter scrub! (Simpler formula)