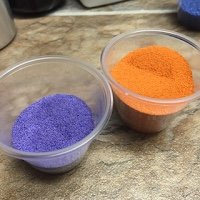 The other day, we met these colourful exfoliants. Today, let's take a look at a few ways of incorporating them to create a foamy, bubbly, exfoliating cleanser.
It's not easy to suspend exfoliants as they naturally want to fall to the bottom or float at the top of a product. To create a product in which beads, seeds, or shells will be suspended, we need to increase its viscosity.
I have a few posts I want to write about viscosity, but baby Sasja insists on sitting on my chest this morning. Now she's a tiny ball dog, and it's too cute to disturb. So I shall continue to write this post very slowly and annoyingly on my iPad with one finger.
We can increase the viscosity of a surfactant mix using a variety of thickeners, but not all offer suspension properties. You must know of my love for Crothix by now. It's a great and incredibly effective thickener for surfactants like sodium lauryl sulfate (SLS) or sodium laureth sulfate (SLeS), but it doesn't suspend very well, so we have to seek out other ingredients to make this work.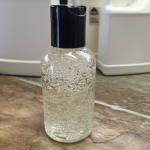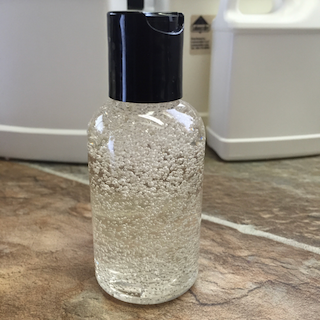 I've tried a few thickeners, and so far I think Siligel, Sepimax ZEN,  and Sepinov EMT 10 were the best for suspension.
I've used Ultrez 20 before as it can handle 10% to 12% surfactants, which is a nice level for a facial cleanser. I love this gardener's hand scrub with pumice as the exfoliants stay nicely suspended. I use this in my kitchen to remove food smells from my hands, but you could substitute some jojoba beads for the pumice to make it more gentle.
You could use something like xanthan gum, but I'm not really a fan of the skin feel, so I can't make any suggestions for its use.
Related post: Can I use Sepimax ZEN to thicken a cleanser to include dermabrasion crystals? Just use jojoba beads instead of dermabrasion crystals.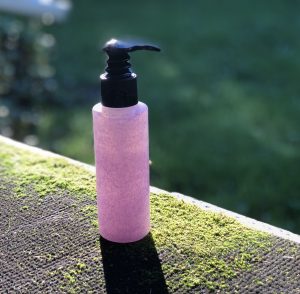 The formula I shared for the rose & chamomile facial cleanser I shared the other day is all about the suspending, as you can see from this picture. I added 4% purple jojoba beads at the end of the process, mixed them with a fork, then packaged it all up in this cool pump bottle. (If you do this, make sure the pump has a large tube as smaller ones will get clogged in mere moments!)
If you'd like to try suspending jojoba beads in a cleanser but you don't have Siligel, you could try using Sepimax ZEN like this…
For the rose & chamomile facial cleanser, leave out the Siligel, and add up to 3% Sepimax ZEN. For the Miracare Soft 313 and Siligel facial cleaner, again, leave out the Siligel and add up to 3% Sepimax ZEN to the end.
Weigh all the ingredients into a container, and mix. Sprinkle Sepimax ZEN over the top, then let it sit for 8 hours to thicken. Do not mix it, just leave it! When it's thickenened, add up to 4% jojoba beads, mix gently with a fork, then package.
Related posts:
Using the surfactant base to make scrubs (part of a series, so many links)
Adding exfoliants to the cleanser base
Join me tomorrow as we have some fun turning foaming bath butter into a jojoba bead extravaganza of loveliness!