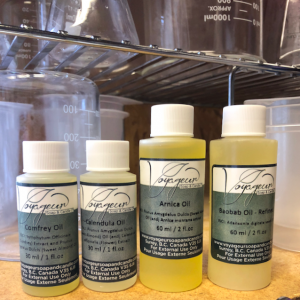 I remember being so excited when I started making products, and I had to make every formula I found. I would sit at the coffee shop near my office every morning to plan out what I'd make next. I would find a formula – something like sweet almond & aloe hand lotion – and I'd rush down to Voyageur Soap & Candle to buy all the ingredients for that lotion. I'd make it, and love it. Then I'd find a formula like avocado & cocoa butter foot lotion. I'd rush down to the Voyageur again and get the ingredients for that formula. Then I'd find something like a shea butter & apricot kernel body butter, rush to Voyageur, and so on. Before I knew it, I had a wall of so many oils.
One morning, when I was doing my daily planning, I noticed something really important. That sweet almond & aloe lotion was exactly the same as the avocado & cocoa butter lotion except for the oils. This got me thinking – could I use another oil in place of the ones suggested? I tried it and, yes! it worked! This lead me to one of the biggest a-ha moments ever
In any lotion formula I write, you can exchange any oil for any other oil, any butter for any other butter, any oil for butter, or butter for oil and the product will still work. You may alter the viscosity or the skin feel or the appearance, but the lotion will still work chemistry-wise! 
In anhydrous products, like lotion bars, you can switch oils for oils and butters for butters, but you can't switch oils for butters as the bar will fail. In a whipped butter, you can switch the oils for oils, but the butters can make a massive difference as it could just be a gooey mess.
What do you wish you'd have known when you started making things? Please share your thoughts – beginners and veterans alike – in the comments!