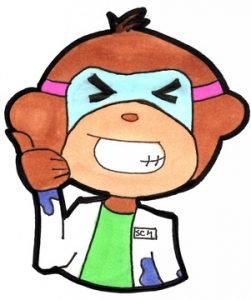 Thanks for visiting the new blog! I hope you're enjoying it! Thanks for your patience as we figure out what we'll be moving here and how we'll do it. It's not just moving the post – we have to make sure all the links work, and such – so it's a work in progress. (See more below…)
There are three places to find information at the moment – the new blog, the old blog, and Patreon. We're working to bring the Patreon only stuff from the Patreon feed over here, but that's a lengthy process when you consider I wrote 80 posts in November and December alone.
The blog: Everything I write from January 1, 2018, onward will be found on this site and blog. I'll share links for this blog on the old blog so those of you who get the email notifications will still get them, but this is where everything new will be from now on.
I will not be instituting a "notify by e-mail" system on this new blog as quite a few people gave that as a reason why they didn't visit the blog to comment or share their thoughts. As I'm trying to create an active community here, it feels like this would ruin all of that. I will post links to posts on the new blog on the old blog, so you can still get notifications with links over there, but not the entire post. 
Exclusive Patreon things: Everything from December 8, 2017, onward are found here on this site and blog.

Everything from Patreon from before December 8, 2017, is still found on the Patreon feed. This includes the duplicated posts and answers to Q&A. It's a pain to navigate, but if you click on "posts" on the Patreon feed, you can at least navigate by month.
And if you click here – duplicated posts on Patreon – you'll see all the…well, you get the idea. This link is currently still on the old blog.
Thanks so much for joining me over here. This definitely a work in progress and I'll keep you updated in this post where we are in that process.
ADDITIONAL: Camirra brought up a good point in the January Q&A. She noted that it's hard to find things here on this blog compared to the old one, noting that if she looked up "dimethicone", she'd find a post on what it was and some on how to use it. That will happen here for a while as we haven't moved all the posts over from the old blog, so there's nothing to find. I have over 2,900 posts there, and each post has to be checked to ensure all the links work. Plus, there's a process that has to happen in order for each post to work. For instance, to write about coconut oil, we also have to move over the posts on phytosterols, polyphenols, fatty acids, and more, so that one post could take hours. Once that's done, it's done and it'll work for other oils, but getting to it is a ton of work.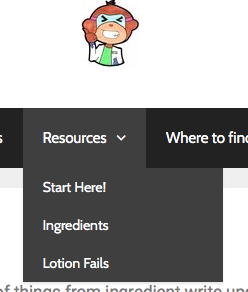 Please note, the resources tab in the menu above is where you'll start to see things organized. Right now, we've copied over links to the FAQ, beginners' section, ingredients, and lotion fails, as you can see in the picture. These are all links to the old blog for now…