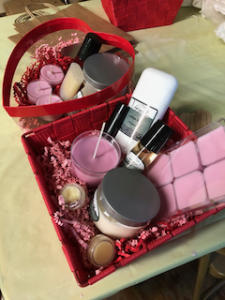 We had such a blast creating Valentine's Day products at Voyageur Soap & Candle last week, and I thought I'd share a few formulas I thought might be nice for the one you love!
As an aside, I hate that February is all about Valentine's Day as some people choose not to celebrate it while others feel left out and lonely. Make this for yourself to celebrate any occasion, like Tuesday or the 4th Monday of the month! 
Check out this white chocolate & babassu massage bar! It's a variation on a lotion bar you can make in a deodorant style container or a mold. It's a decadent bar that melts on contact with your skin thanks to the lusciously silky babassu oil.
The first product I bought from The Body Shop was a massage product intended as a belly balm for pregnant women to prevent stretch marks. I didn't notice any of that at the time as I was entranced by the smell of white chocolate wafting from the bar.
I've tried to replicate that smell by using undeodorized organic cocoa butter that smells amazing, but if you can't find that, try adding 0.5% white chocolate fragrance oil (from Voyageur Soap & Candle) and/or 0.5% vanilla bean marshmallow (also Voyageur Soap & Candle) or any combination of sweet, chocolate-y or vanilla-y fragrances you can find.
As I've been trying to create more green, ECOcert, and plant based products this year, I made this version with soy wax, pillar blend, in place of beeswax. I've been using EcoSoya Q230 (from Voyageur Soap & Candle) which works as a pillar and container wax, but you could substitute any stiffer soy wax you have at home. You could use beeswax here, but reduce it to around 25% as it will be far too stiff and not at all massage-y if you leave it at 30%.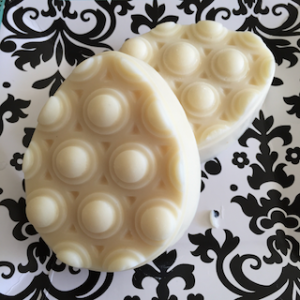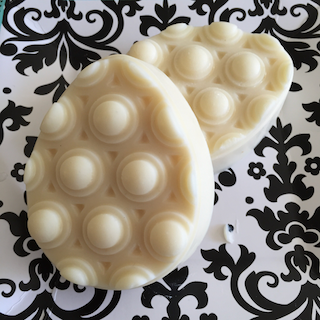 I love love love babassu oil as it melts on contact with our skin and offers a less greasy, silky feeling. It's the star of this bar, so I don't advise substituting it for anything else, but if you must, coconut oil has a similar melting point of around 24˚C or 76˚F, but it's a much greasier ingredient.
For the liquid oil, I've chosen fractionated coconut oil as it is incredibly light and non-greasy feeling. You can use any liquid oil you prefer, but I'd suggest using a less greasy feeling oil, like kukui nut oil or macadamia nut oil.
WHITE CHOCOLATE & BABASSU MASSAGE BAR
30% soy wax, pillar blend
30% cocoa butter
19% babassu oil
10% fractionated coconut oil
1% fragrance or essential oil
Add all the ingredients except the fragrance or essential oil into a heatproof container. Put the container in a double boiler and melt until liquid. Remove from the heat and measure the fragrance/essential oil into the liquid, mix, then pour into molds.
Related posts: Newbie Tuesday: Let's make lotion bars!
*Please note, I'm sharing these links to Voyageur Soap & Candle to make it easier to find the ingredients I used in this formula. These are not affiliate links and this isn't sponsored content. I make nothing from no one if you click through or buy anything.