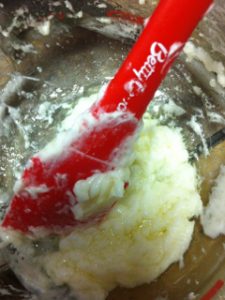 I always say I gain confidence from my successes but learn more from my failures, but this doesn't mean I love to see a lotion fall apart or a conditioner start weeping oil a week or two later. I admit to getting more than a little peeved when I only have a few hours in the workshop in a week and things don't work, but even in my "crush, kill, destroy" moments, I know how important it is for me to embrace the fail and learn something from it.
This is a serious Ritamulse SCG fail. My bestie and I were making products for Christmas, and I thought it would be neat to modify our foot lotion to include this emulsifier instead of Polawax, and this is what we made. Cottage cheese looking cream!
What did I learn? I learned that Ritamulse SCG really means it when it says it can't handle more than 25% oils.
I had another lotion fail with Ritamulse SCG from which I learned that when the data bulletin says to add the preservative at lower than 45˚C, you better add the preservative at lower than 45˚C.
So my question to you today is this: What did you learn from a spectacular fail? 
Related posts:
When lotions go wrong!
Why did this lotion fail? Part one
Why did this lotion fail? Part two
A slightly more in depth look at emulsification
It's time to make lotion!
A few questions about lotion fails
Question: Why did this lotion fail?
Troubleshooting a lotion fail…
Can I save a failed lotion?
Why did my lotion fail? Loads of links here!
Why did my lotion fail? Emulsifiers
Why did my lotion fail? Emulsifiers continued…
Why did my lotion fail? Heating and holding
Why did my lotion fail? Optiphen
Why did my lotion fail? Water in oil emulsions
How to make a successful lotion